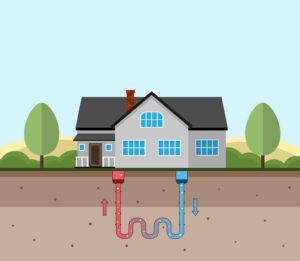 With the rise in popularity of renewable energy, ground source heat pumps have turned into a very intriguing option for a lot of homeowners. People all over the United Kingdom are interested in the ability to stay warm in the winter months and cool during the summer, without the need for a boiler or air conditioning.
A ground source heat pump is a solution for homes that transfers heat between home and the ground. By moving heat from one space to another, the temperature inside the home can stay optimal. This comes in particularly handy during the coldest months.
But how much space does such a system take up?
Getting a ground source heat pump sounds like a great idea, but what exactly goes into the process and how much space do you need to take advantage of it? Here's a closer look at the space requirements, plus some common questions and answers in regard to this heating and cooling technology.
Having A Ground Source Heat Pump Installed
Once a person decides on going forward with a GSHP, the design and installation process begins. Companies will often suggest taking the energy from the water going through the pipes in the ground, partly because this offers a stable source of heat, as opposed to an air source heat pump, which is subject to the vagaries of the UK weather.
These pipes are usually about two meters deep, but an alternative is to use vertical boreholes if space is of a premium. This is similar logic to the idea that in crowded cities, where space is at a premium, the only way to build more accommodation is to build up – hence the high-rise blocks of flats in many UK city centres. However, in the world of the ground source heat pump, the only way is down…
Groundwater tends to remain at a fairly constant temperature of approximately 11°C all year round in the UK, which gives enough heat for a heat pump to extract and deliver to your home.
One of the most important parts of the design process is to match the ground loop to the heating load of the home. Inappropriate design can result in poorly-sized systems that fail to do their job properly. This can result in a system that is expensive to run or, in the worst case, one that fails to provide sufficient heat energy to keep the property warm.
After Installation
While the installation process can seem complicated, the result is a very efficient, easy-to-use system for controlling the temperature of your home. The installation process should always be done by professionals, although some people will try to tackle things by themselves. Beware of this temptation! Without the proper knowledge, you can find yourself landed with an expensive and ineffective system. If in doubt, get the professionals in.
Once up and running, the system can be operated without a lot of baby-sitting from the homeowner, so there is not really much to do after installation. There are basic maintenance checks that should be done from time to time, and routine servicing is a very good idea, but mostly installations work as they should for years.
Common Questions and Answers
Since ground-sourced heating and cooling, and sustainable energy as a whole, is still relatively new, many home owners around the UK have questions before they take the plunge. Below are some of the most common questions, with answers provided.
Do you need planning permission for a ground source heat pump?
Most home owners will not need permission, but it is always encouraged for people to look into their own unique situation individually. The majority of homes will be allowed it as permitted development.
Those living in a listed building, or a conservation area, need to look into applying for a permit before installation. Every area is going to have slightly different rules and regulations though, so there is no blanket yes or no answer.
What's a typical ground source heat pump pipe length?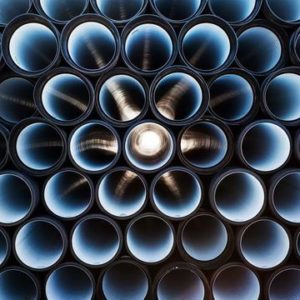 Ground loops range in size but are typically going to be about 200 meters long. Since many homes will need two or three, with separation between each of them, it is recommended to have about 700-800 square meters to operate with.
This can be a lot of space for a homeowner to have to find, but there are some alternatives. A slinky-like setup needs less space because this allows for installation of a length of pipe in a smaller area but can be less efficient because of the loops transmitting heat between each other underground. Vertical boreholes are another option, but they can be costly due to the drilling process requiring specialist equipment and being more energy and time intensive.
Inside the home, there will be no difference. The entire setup will take up about the same amount of size as a traditional heating and cooling unit.
How deep is a ground source heat pump?
For horizontal loops, the ground is only dug up a few meters. For a vertical loop, most will need to dig at minimum 60 meters.
What are some ground source heat pump advantages?
Operational costs for a ground source heat pump will be pretty low, which is a major advantage for home owners once things are set up and used consistently. The cost stays low thanks to only the compressor needing electric energy. The heat pump is more efficient than a pure electrical heater would be and this is one of its great strengths.
Another advantage is that a GSHP can work for cooling and heating needs. With other setups, a separate air conditioner and boiler are needed. For a GSHP to work for both, the valve just needs to be reversed to change the circulation of the fluid.
Finally, the value of a property can go up with a properly installed ground source heat pump. Since installation is the biggest cost, having one already set up in a home will be beneficial when selling.
And don't forget government grants and financial incentives, such as the RHI, which can tip the balance in favour of a heat pump system, especially over the lifetime of its operation.
What are the disadvantages of ground source heat pumps?
As mentioned earlier, perhaps the most significant disadvantage is the installation cost. It costs considerably more than putting in a standard conventional boiler or air conditioner. This initial investment is tough for some people to handle, but in the long run, things often more than even out, especially if you qualify for the financial incentives mentioned above.
It can be challenging to find groundwater for a deeper system in specific locations as well, such as in areas of Scotland underlain by hard rock such as the Highlands. That can be a problem for some homeowners in those parts of the country. It is important to research each specific situation first before fully committing. There are alternatives you could consider if you don't have the option to drill a borehole, such as an air source heat pump.
Any DIY ground source heat pump tips?
For the vast majority of people…don't try. The installation process is somewhat complex, and if done correctly, it can last a long time. Unless a person has experience with geothermal systems, it's better to leave it up to professionals.
Those who know enough to try installing a system themselves will not pick up anything useful from this basic overview. They will already know more than enough to tackle a project of this size.
Final Thoughts
There is little doubt that a ground source heat pump can provide a lot of benefits for a home. Not only can it save on monthly bills, but by using renewable energy, it is much better for the environment. It can be a pretty big commitment to get it up and going initially, but the pay-off in the long run can be excellent.