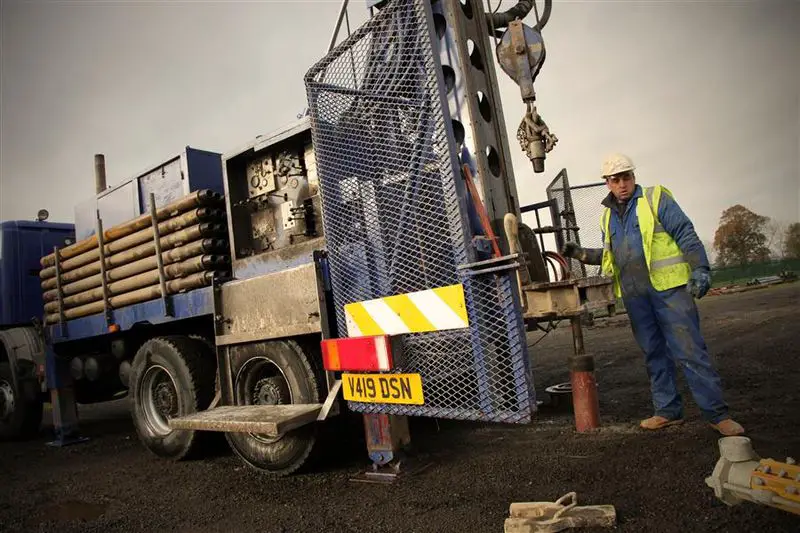 Ground source heat pumps (GSHP) make use of the heat available under the ground to heat your home. They offer a number of advantages over air source heat pumps but tend to be more expensive due to the initial ground source heat pump borehole cost, which can be more expensive than the alternative, horizontal trenches.
What is a heat pump?
Heat pumps move heat energy from one place to another, in the case of a ground source heat pump this means moving the heat that is present under the ground into your home, where it is used to raise the inside air temperature to a comfortable level and can also be used to heat your domestic hot water.
How do heat pumps work?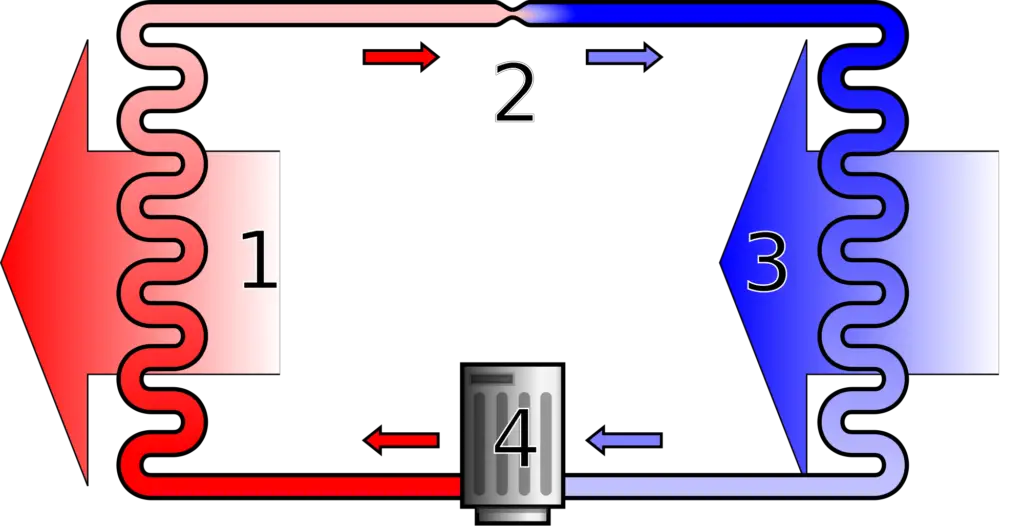 You can think of a heat pump as a refrigerator running in reverse. Instead of taking the heat from the inside of your fridge compartment and moving it to the back grill of the fridge, where it is emitted to the air in your kitchen, a heat pump takes the heat present outside your home and transfers it into the building.
The heat is usually distributed around the building using either underfloor heating and low-temperature radiators. Underfloor heating is a great way to achieve this distribution of heat, because heat pumps work most effectively at low temperatures, which requires a larger surface area for the transfer to take place. Placing pipework underneath your entire floor area can provide a huge surface area and also has the pleasant side-effect of keeping your feet nice and cosy.
The transfer of heat from outside to inside is achieved using the refrigeration cycle, which makes use of refrigerant fluid to absorb the heat, before concentrating it using a compressor. Finally it is passed through a condenser, across which air may be blown, which has the effect of heating the air to the desired temperature.
This warmed air is then circulated around the home, sometimes with the use of ducts, but it may also just be blown into living space as is the case in a ductless system.
What is a ground source heat pump?
The principles defining the operation of all heat pumps are fundamentally the same, as outlined above in the previous section. There are a few main types of heat pump, including air source heat pumps, water source heat pumps and ground source heat pumps. In addition to these main types, you can also get exhaust air heat pumps, which as you might imagine extract their heat from the exhaust air from a building that has a mechanical ventilation system installed.
In this article, we are focusing on ground source heat pumps. But where does the heat come from for a ground source heat pump?
The facile answer to this question is "from the ground", but the real question is how does the heat get there in the first place?
It is possible to drill deep enough to make use of heat from the Earth's molten core. If you've ever been down a deep mine, you will have noticed that the deeper you go the warmer it gets. That's not due to the machinery in operation down there, or even all the hard-working bodies. It's actually because you are getting closer to the Earth's molten core.
The temperature gradient as you travel down through the Earth's crust means that for every kilometre you travel vertically downwards, the temperature increases by about 25°C. So, believe me can get pretty hot down the mine – plenty hot enough to power a ground source heat pump.
But making use of geothermal energy from the Earth's core is the exception rather than the rule when it comes to ground source heat pumps.
Most of the heat energy used by has its origin in the sun. As the sun shines down on the Earth's surface, heat is transferred and absorbed by the ground. Most ground source heat pumps tend to be relatively shallow in construction and therefore source most of their heat from the shallow ground but is warmed by the sun.
The average temperature at moderate depth below ground level in Scotland is approximately 10°C, and this temperature remains relatively stable all year round. And this is one of the key advantages of a ground source heat pump.
Whereas air source heat pumps tend to have to work harder during the cold winter months because there is less heat available in the cooler air, ground source heat pumps have the advantage of obtaining their heat from the more stable conditions underground.
This allows a ground source heat pumps to operate more efficiently, particularly during the winter. The big benefit of this is that you use less electricity, which not only is better for the planet, but also save you money. Something that is very welcome indeed given the current energy crisis sending electricity prices soaring.
How much land do you need for a ground source heat pump?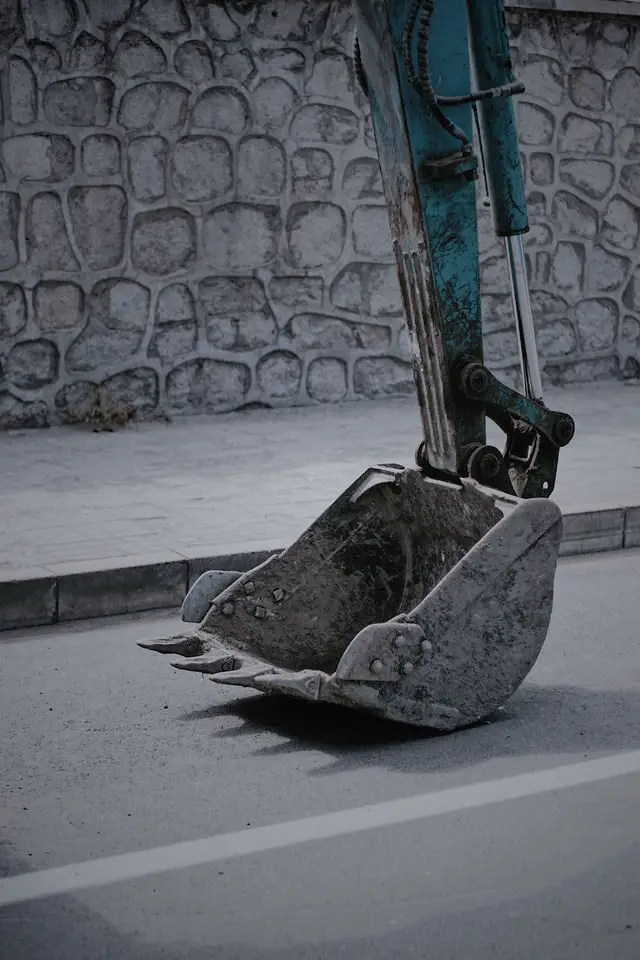 Ground source heat pumps fall into two broad categories, namely those that bury the pipework in long shallow trenches and those that install the pipework in vertical boreholes.
How much land you need depends on which option you select, as well as the size of the ground loop required to provide heat to your system.
The length of pipe needed for a ground loop can be as much as 400m, but a typical GSHP system will likely require between 600 and 1200m2 of land to accommodate a horizontal ground loop, or a much smaller footprint for a vertical borehole (typical diameter approximately 150mm).
Ground loop in shallow trench
There are obvious benefits to using a shallow trench. Installing the ground loop in this way does not require specialist drilling techniques, which can make things cheaper.
However, digging a series of large trenches requires a lot of space and will make a mess of your back garden.
If you install a series of trenches in your back garden or, if you're lucky enough to have one, your field, you will have diggers driving all over it, churning up the ground. By the time they've finished, the mess that's been made could take over a year to recover from.
Cost of digging the trench
For a typical horizontal ground source heat pump, with the ground loop installed in a trench, you can expect to pay the digger driver up to 5 pounds per square metre of trench. This assumes you have suitable ground conditions, which can be easily dug through. A JCB can dig through some types of bedrock, but if you encounter hard granite or something similar near the surface, this can slow things down considerably and cost you more.
Boreholes for ground source heat pumps (GSHP)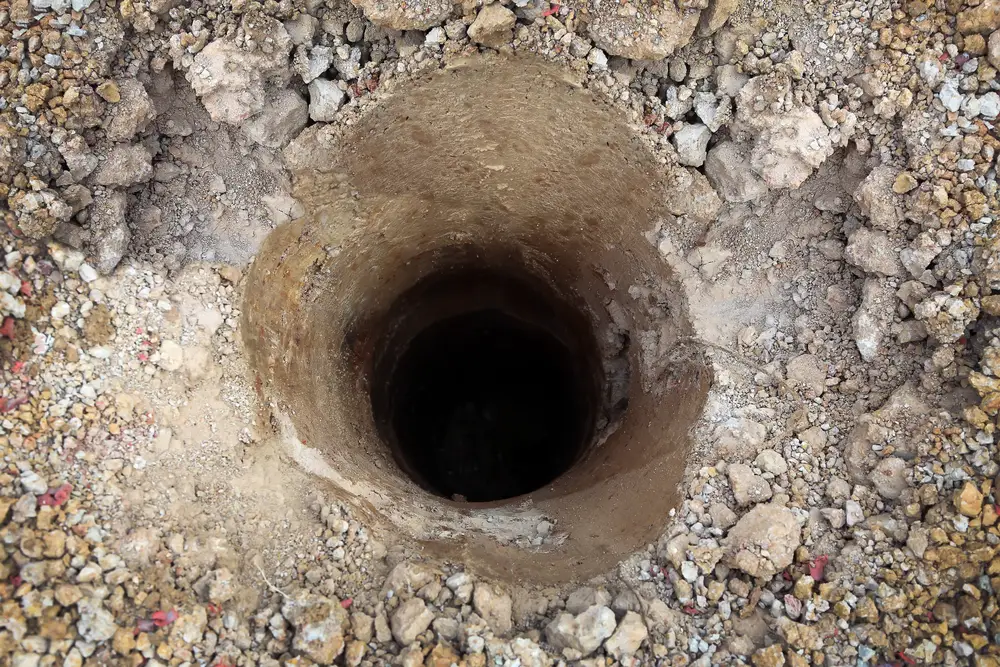 Boreholes have the advantage of not making such a mess of your field and require a lot smaller footprint because they are drilled vertically downwards.
Boreholes can also be installed through concrete and tarmac surfaces, so are a much better choice if you want to install the collector under your company car park or your home driveway.
Ground source heat pump borehole cost
The exact cost of drilling boreholes for a ground source heat pump depends partly on the underlying geology of your site.
If there is a good thickness of drift overlying bedrock your site, which comprises mainly sand and gravel, the drilling will be comparatively easy going. However, if there is little or no drift and your drilling company has to drill through hard bedrock, this will take a lot longer and be more expensive.
The finished depth of the borehole obviously plays a part in determining the overall cost is drilling deeper will be more expensive.
Typical prices for boreholes range widely for the reasons given above. However, you could expect to pay £40 per metre, and I have seen costs as high as £100 per metre for drilling through tricky geological conditions.
Some of the other things that can affect the final cost of the borehole include obvious things like the diameter, and less obvious things such as striking water, which could be at pressure in certain areas and require special handling. This could include the use of grout to seal the borehole and bentonite clay to prevent the water crossing over into other strata and potentially rising to the surface where it could cause localised flooding problems.
Types of borehole
There are two main types of ground source heat pump loop that relate to boreholes. These are closed-loop systems and open-loop systems.
Closed loop
As the name suggests, a closed-loop system pumps fluid through a pipe which extends down the borehole, where it collects heat from the ground. The same fluid continues its journey back up the borehole, where it is passed through the heat pump to utilise the heat captured.
Open loop
Open-loop systems on the other hand will typically abstract groundwater from deep down in a borehole, which is then passed through a heat exchanger and heat pump to extract the heat.
The same water, now cooler after having had some of its heat removed, would be discharged, often down a separate borehole, into the aquifer from which it came. Hence the term open-loop.
Are boreholes expensive?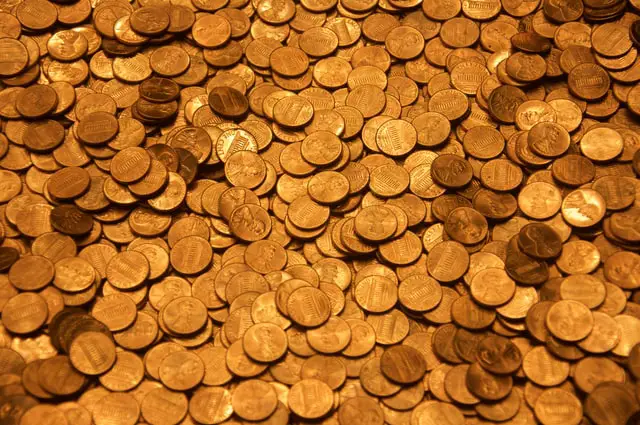 Whether you think boreholes are expensive for use with ground source heat pumps depends on your perspective and circumstances.
If you are on a tight site, with little space to dig horizontal trenches, boreholes might be your only option.
Similarly, if your site is covered with concrete, or maybe a nice smart car park surfaced with tarmac  and lovely painted lines, it would prove costly to dig that all up and reinstated after digging extensive horizontal ground loop trenches for your ground source heat pump.
In such circumstances it would make far more sense to drill a borehole.
So, although drilling boreholes can be expensive, they are certainly an option worth considering, especially if you don't have much space or the space you do have is taken up with high-value uses that would be costly to reinstate.
Types of borehole drilling rig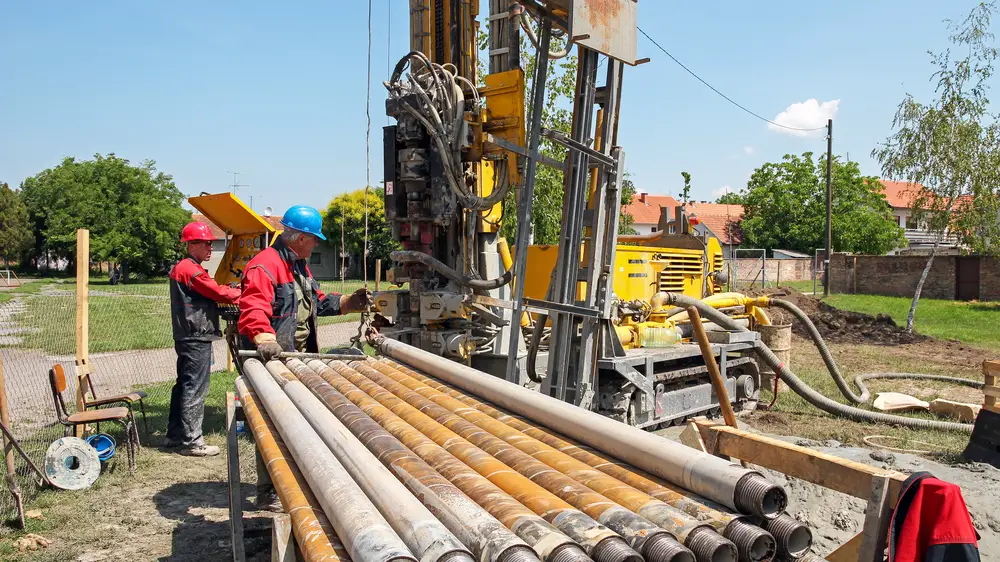 It's worth mentioning that there are different types of borehole drilling rigs in use and the type of rig can affect the cost and speed of drilling. You might find you need to use a specific type of drilling rig if the geological conditions underneath your site require it, or if you are in a hurry you might choose a faster drilling method.
Here are some of the options available to you.
Percussion
The standard percussion drilling rig is a piece of kit you will probably have seen on many building sites.
It is usually operated by a two-man team and comprises a steel bit suspended by a cable. The steel bit is hoisted on the end of the cable and repeatedly dropped down the borehole, thereby pulverising the rock and scooping the spoil backup to the surface.
There are many different tools available we can be fitted to the end of the cable for different ground conditions. These include the shell type, which is used for drilling in soft ground like sand and gravel, and the cross chisel, which is used to break up boulders and from drilling through hard rock.
The different tools are normally fitted to a sinker bar, which adds weight and power to allow drilling to proceed more quickly.
Rotary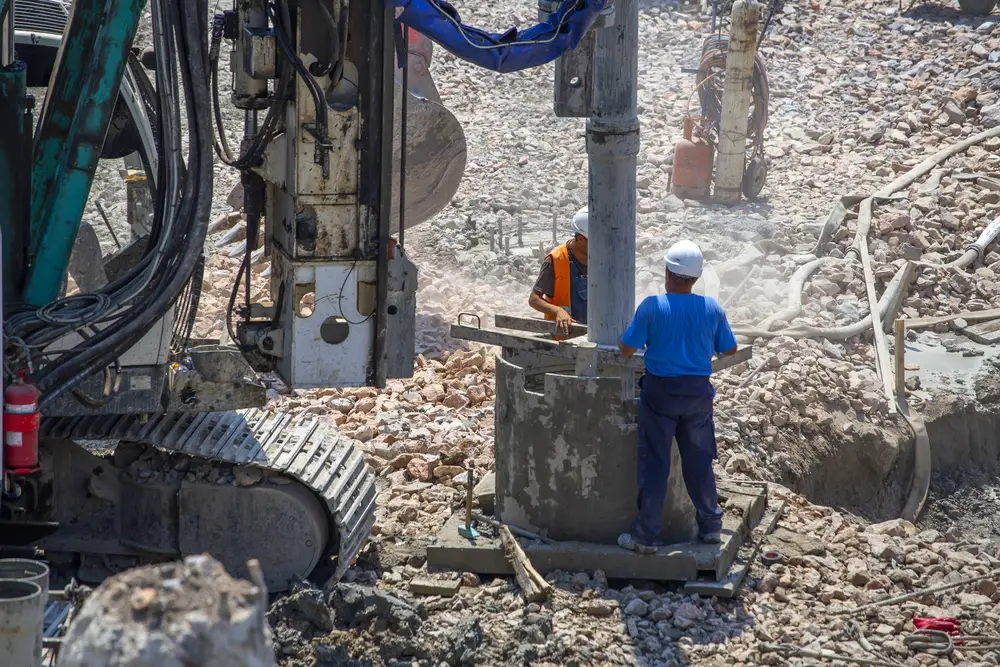 Rotary drilling is much faster than percussion drilling and is ideally suited for drilling deep boreholes.
The cutting head is fitted to the end of the shaft and rotates at speeds of up to 120 rpm. The spoil is removed from the borehole using either high-pressure air or drilling fluid. The air or drilling fluid also serves the purpose of cooling the drill bit as it bores through the rock.
Down the hole hammer
Down the hole hammer is basically a pneumatic drill attached to the end of the drill string. As you can imagine, this helps to make light work of hard rock and combines the fast hammer action of the pneumatic drill with rotary drilling action.
This is a highly effective form of drilling and is one of the fastest ways to drill through hard rock.
How deep is a borehole for a ground source heat pump?
The typical depth of borehole for use with a ground source heat pump system is between 60 and 200 m. The diameter is normally around 150 mm and multiple boreholes can be combined into arrays, which increase the amount of heat that can be made available for the system.
How much do boreholes cost?
The minimum cost for a borehole to be used with a ground source heat pump might be less than £10,000, but costs can rise much higher than that – easily up to £30,000 or more.
As stated above, there are many variables that determine how much you pay for a borehole, including depth, diameter, underlying geological conditions, whether water is likely to be encountered et cetera.
It pays to get good advice in advance when considering your options.
How much does it cost to fit a ground source heat pump?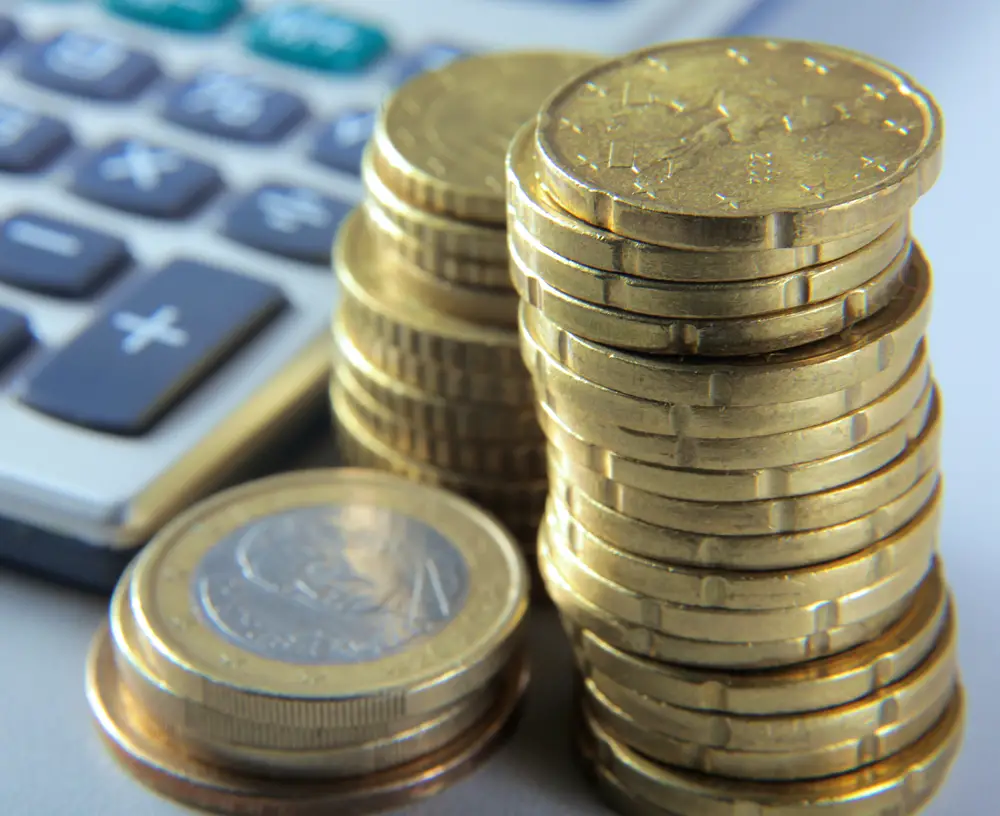 The overall cost for fitting a ground source heat pump depends on the capacity required and the type of ground works employed.
According to the Energy Saving Trust, the cost of installing a ground source heat pump for a two-bedroom property is around £16,000 exclusive of the ground work cost. Ground works for this type of property could be approximately £3000 for a horizontal trench dug ground loop, or £6000 for a borehole ground loop.
The cost of installing a similar system in a six bedroom property is estimated to be around £32,000 not including the ground works. Horizontal ground works for this type of system are estimated to be in the region of £8000, with vertical ground works estimated at £20,000.
Is ground source heating cost effective?
Despite the high installation costs of ground source heating, in the right circumstances it can be a very cost-effective form of heating.
Properly designed, operated and maintained, running costs can be lower than almost any other solution.
Such low running costs can be achieved as a result of the stable and relatively warm underground temperatures accessed using ground source heat pumps. This allows the heat pump to operate efficiently throughout the year, even when outside air temperatures are at their lowest, which is when air source heat pumps can run less efficiently.
When installed in a well insulated building and where ground conditions mean that the installation of the ground loop isn't too expensive, ground source heating can be very cost-effective.
Summary
Ground source heat pumps can be a very energy efficient and cost-effective way to heat your property.
Provided you have the right ground conditions and a well-insulated house, ground source heating systems have some of the lowest running costs around.
If you are limited for space or don't want to dig up large areas of your plot to accommodate a horizontal ground loop, a ground source heat pump borehole is worth considering. The initial installation cost, although high, can be worth it in the long run.
If you're interested in finding out more, take a look at some of our other articles about heat pump options. Once you're ready, why not take a look at our article on how to find a heat pump installer, which provides information on what you can expect and gives you some pointers on the right questions to ask.