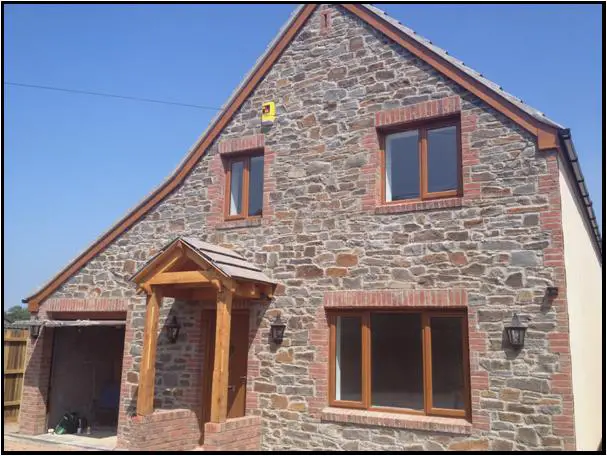 This new build development in Clevedon (Somerset) has been built to the latest building regulations. The Mitsubishi Ecodan W85 air source heat pump with a 180L heat pump optimised hot water cylinder was specified.
What Is an Air Source Heat Pump?
Air source heat pumps are becoming increasingly popular in the UK, having been a common sight in parts of Europe for decades already.
They are notably widely used in Scandinavia, where winter temperatures fall to well below zero for much of the time.
Heat pumps use the refrigeration cycle to move heat against its natural direction of travel. The second law of thermodynamics states that heat always flows from hot to cold, and never spontaneously in the opposite direction.
Heat pumps use electrical energy to compress refrigerant fluid and pump it around the system through a series of stages that allow the refrigerant to absorb heat from the cold side of the system (the air outside), concentrate that heat and then move it inside where it is distributed around the building.
They are incredibly efficient, particularly when compared with traditional forms of heating. The efficiency comes from the fact that they move heat, rather than generate heat directly like an electrical resistance heater would do.
Moving heat in this way, using the principles of the refrigeration cycle, means that heat pumps typically output up to four times the amount of heat energy compared to the electrical energy used by the system.
This concept is expressed as a ratio called the Coefficient of Performance (COP). A heat pump that outputs four units of heat energy by using a single unit of electrical energy would have a COP of 4.
Underfloor Heating
This setup is complemented by a Heatmiser wet under floor system using the traditional method of 16mm PEX pipe buried in screed and radiators for the first floor.
Underfloor heating is an excellent way to make best use of heat pumps. This is because heat pumps perform most efficiently at relatively low temperatures as their coefficient of performance is impacted by higher temperature differences between the cold side of the system and the warm side.
This means that using low temperature heating such as underfloor heating improves the efficiency of a heat pump system.
The reason for this is that the same amount of heat transferred into the living area by a standard hot water radiator, which is relatively small but at a high temperature, can be transferred using a much lower temperature but larger surface such as an entire floor.
Low Temperature Heat Pump
In the past, heat pumps have been criticised for not being able to cope with very low outdoor temperatures. This is not a problem for modern heat pumps, which can operate efficiently down to well below zero.
The award winning Mitsubishi ECODAN air source heat pump has been specifically designed to operate in ambient temperatures as low as –20˚C. The heat pump has also been awarded the Quiet Mark for its ultra low noise levels meeting the requirements under Permitted Development and factory coated to protect against salt corrosion in coastal locations.
Heat Pump Supplies Hot Water
Another myth associated with heat pumps is that they are not able to produce hot water that can be used for washing and bathing in the home. This is incorrect and the myth probably arose due to improperly installed heat pumps.
Capable of storing domestic hot water at 60˚C the system also utilises weather compensation to modulate the heating flow temperature increasing the Seasonal Performance Factor (SPF) and Coefficient of Performance (COP)
It is the preferred choice for housing developers looking to meet Code 4/5.
Due to the MCS accreditation of the installer, the end user was able to claim over £4500 in domestic RHI payments over the next 7 years.
Inverter Driven Heat Pump Compressor – Quiet and Efficient
Heat pumps using rotary compressors used to be a little noisy and would cycle on and off regularly because they only operated at a specific speed.
Modern inverter-driven compressors function much more precisely and can ramp up the compressor speed as required. They can run very fast when initially heating a room but then slow right down to the rate required to maintain comfort.
As a result they operate much more efficiently and more quietly than their old-fashioned rotary ancestors.
The inverter allows the system to vary the speed of the compressor matching output to load requirements resulting in increased efficiency.
Low start current (5A)
Low Noise 14kW 53dBA nominal
Low Noise Mode 7°C/46dBA

If you are interested in installing a heat pump of your own, why not read our article on how to find a heat pump installer that can do the job for you?