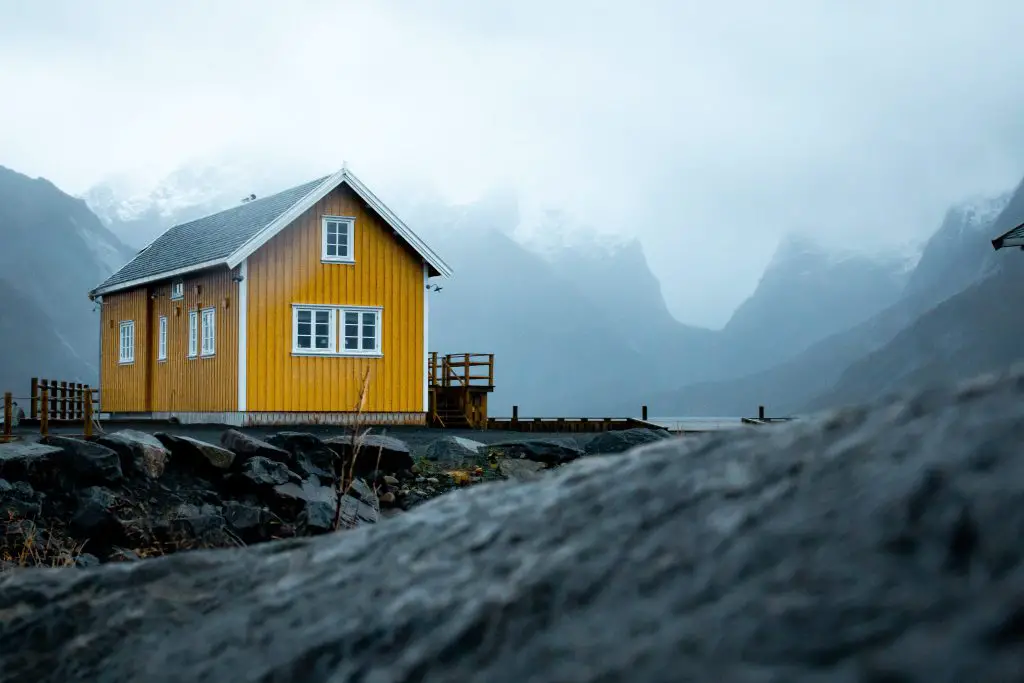 Ever wondered whether air source heat pumps work in Scotland? It's a question I've often seen asked by people on the internet and the rumour is that heat pumps don't work in colder climates.
Well, I'm here to set the record straight!
First, let's look at the misconceptions out there.
Air Source Heating – Scotland is Too Cold?
I've seen people claiming that Scotland is too cold for air source heat pumps to operate effectively. Yet in Scandinavia, heat pumps can be found in half of all homes.
Take a look at the graph below, which shows the number of heat pump units per 100 households, plotted against mean temperatures during January, as measured during 1990 to 2020.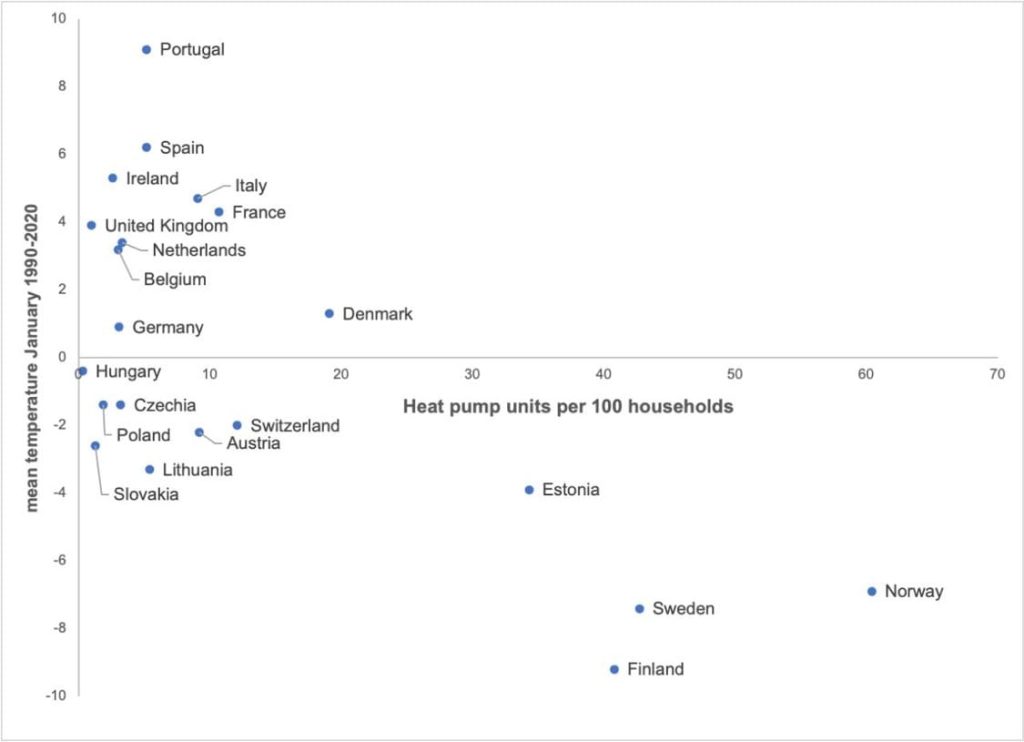 The graph shows that the United Kingdom averages about 4 degrees Celsius during a typical January and only has around 1 heat pump unit per 100 households. The only country listed on the graph with lower numbers than that is Hungary, which has practically zero.
Compare this figure to the much colder countries in Scandinavia where uptake of heat pumps is approximately 50%. This is despite the average January temperature being much colder than here in the UK, even in Scotland. In Sweden and Finland, the average temperature is around minus 8 degrees Celsius and yet they have over 40% uptake of heat pumps in their households. Better still is Norway, which is only slightly warmer on average, at approximately -7 degrees Celsius during January – but Norway boasts 60 heat pump units per hundred households.
So how do they do it?
How does Air Source Heating Work in Winter?
It's not a particularly well-known fact, but air source heat pumps can successfully heat a building even when temperatures plummet to -25 degrees Celsius. In Scotland, we have never experienced temperatures as low as that. In fact the lowest temperature ever recorded in Scotland (and the UK) was -27.2°C, during December 1995. These chilly depths were plumbed in Altnaharra, Sutherland, equalling the previous record set in 1982 at Braemar.
Given the fact it is so rare that temperatures ever get down so low here in Scotland, heat pumps should have no problem dealing with most winter cold snaps.
The heat pump works by extracting heat from the outside air and bringing that heat inside using the magic (or rather, the science) of the refrigeration cycle. Even cold air contains some heat, and a heat pump makes use of this fact to concentrate the heat using refrigerant, an evaporator, a compressor, a condenser and an expansion valve. These component parts of the process are employed in a heat pump to move heat from the outside of a building into the living space.
Ever felt the back of a fridge? It's warm, and that is analogous to the way a heat pump operates.
This guy gives a quick demo of a heat pump working well in very cold weather. If you need a translation, 69°F is about 20.5°C (that's his indoor temperature) and 30°F is -1°C (his outside temperature). The night before, he said it was in the teens or 20°F the night before, which is around -7°C.
Is Air Source Heating Cheaper than Gas?
We've had a long love affair with the gas boiler. Many of us can't even remember a time before the convenience and comfort of heat "at the flick of a switch". But with the climate change crisis worsening by the year, we have to do something to wean ourselves off gas heating – and heat pumps just might be the way to do this.
Modern heat pumps have a long life span – typically up to 25 years or more. They have been more expensive to buy and install than a traditional gas boiler but this is changing with their popularity increasing. The RHI payments that are available help bring the cost to the consumer down considerably as well.
Add to that the fact that we are facing a worsening energy crisis, with spiralling costs of gas and other fossil fuels, and heat pumps start to look a bit more attractive. Whether an air source heat pump is cheaper for your home depends on your specific circumstances, but it's got to be worth investigating, particularly at the moment.
Is Air Source Heating Expensive to Run?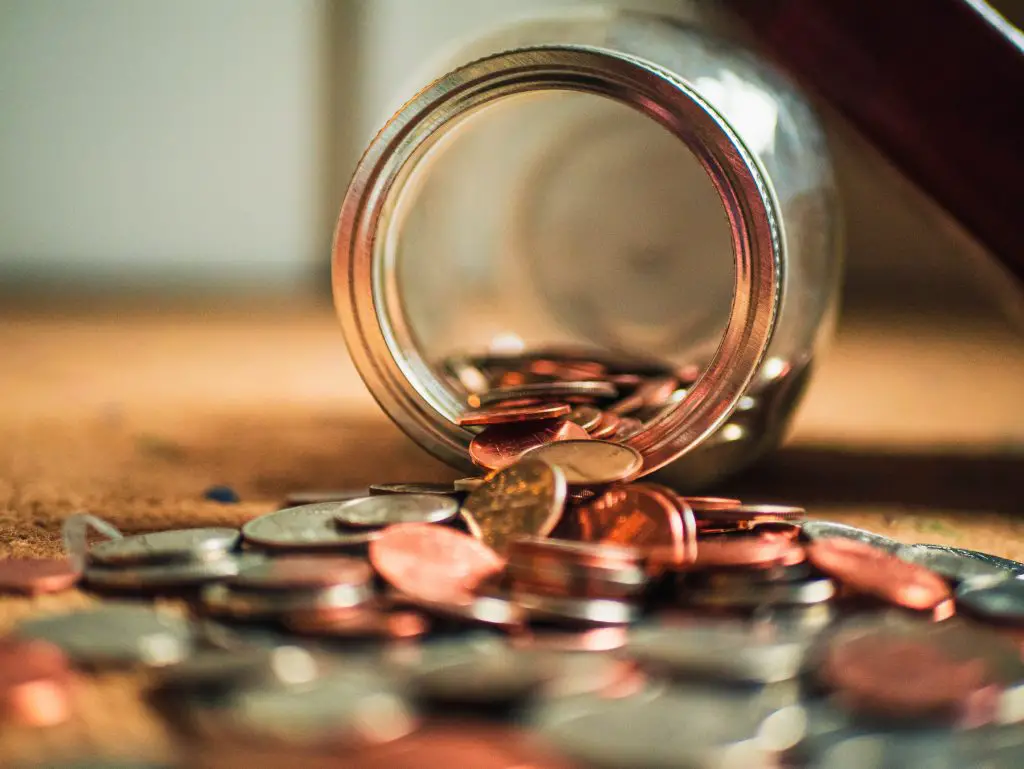 Once you've got the initial cost of purchase and installation out of the way, you will find that air source heat pumps are one of the most efficient ways to heat your home.
The initial outlay is on the dear side – typical cost of a fitted ASHP is from £5,000 to £10,000. Compare this to a typical gas boiler, which might cost you £2,000 – £3,000 and you'd be forgiven for going down the traditional route, even if it means losing your green bragging rights.
Once installed, though, the running costs are very low. A typical, modern 4-bedroom house might require 19,000kWh of heat per year, which would come with a price tag of almost £900. Using cheap rate electricity and running the heat pump to heat your home and provide hot water could result in significant savings in the long run.
Air Source Heating – Scotland Can Benefit
Given the fine example set by the Scandinavian countries, I see no reason why Scotland cannot benefit from air source heating-Scotland is after all a country of great innovation and can surely rise to the challenge. It's not too cold in Scotland for heat pumps to work.
Air source heating is often cheaper than fossil fuel alternatives and the RHI payments help to further enhance the financial appeal of this proven technology.
Provided your property is adequately insulated, installing air source heating in Scotland should be considered a sound option.